Abandoned Cart – Our first feature
Editors note: We've updated our Abandoned Cart Recovery feature to include 3 touches and SMS, if you choose. Read from our CMO how to make the most of it here! 
Thousands of ecommerce shopping carts are destined to be abandoned every day.
That's right! As a business owner, you have to brace yourself for abandoned carts, because they are as natural as leaves falling in the autumn.
In fact, according to the Baymard Institute, 58.6% of US online shoppers have abandoned a cart within the last three months because they were "just browsing" or "not ready to buy."
So, if the phenomenon is far from unusual: why set a course for an abandoned carts feature?
The reason we decided to prioritize solving this issue for sellers is because abandoned carts signal intention. The exact level of intention depends on the customer, but anyone placing items in their basket is a clear signal that they are interested in purchasing, given the right conditions.
Now it's important to highlight that, while Aument is a world class autopilot machine for ecommerce owners, built on the pillars of AI and marketing automation — there is more to it than algorithms, machine learning and other buzzwords. Aument is about conversion.
From abandoned cart recovery emails to winbacks based on probability and machine learning, Aument will make ecommerce a breeze. To explain how Aument can lower your workload and raise your conversion rate increase, let's cover the basics.
We launched the abandoned cart action with an easy-to-use and effective design. This function stays smart and relevant, sending one message only, per person and not per abandoned cart.
This means you won't upset customers who were "just browsing" by overloading them with emails. This is key because one spammed customer is one less source of revenue.
One hour after your potential buyer ditches their cart, Aument automatically sends them an email. After this initial action, Aument automatically optimizes email delivery times based on probability of success. You can edit this as you choose, however: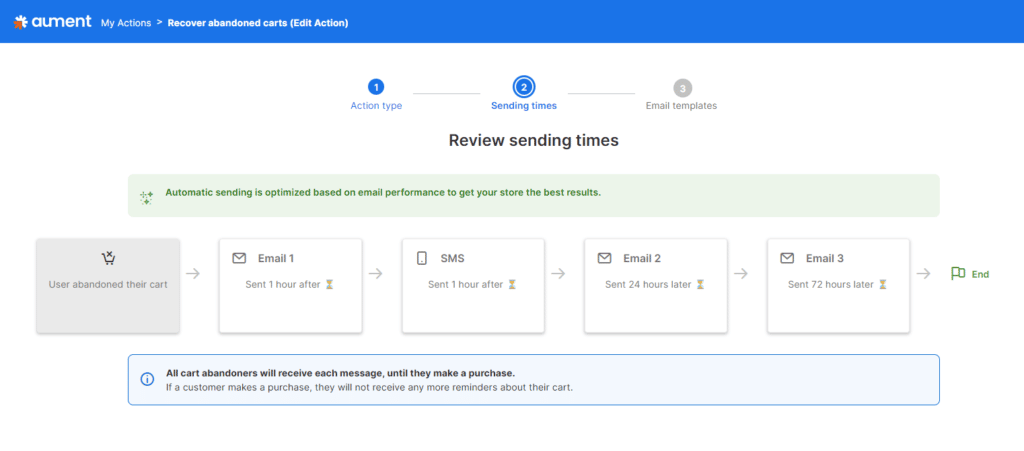 Automate marketing by templatizing
We also curated the best abandoned cart recovery template for you, which you can send out as is, or customize it with just a few clicks. The layout and the main points of the text are created using industry best practices, such as:
Placing a call to action within the reader's first scroll.
A realistic introductory text, with a sense of urgency.
The products that your clients left behind, which Aument automatically adds.
An enticing image.
A message encouraging the recipient to contact you if they have any question or issue.
Aument is also launching time-saving functions to make platform set-up and action activations even smoother.
Best of all, there's no need to integrate a new email sender as Aument has one ready for you. So, in less than five minutes, you can activate this abandoned cart recovery action, and start recapturing sales that are ripe for the picking.